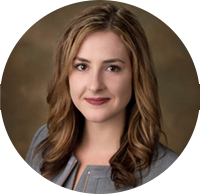 Geneviève Boulay

Tel: 613-722-9091
Direct: 613-702-3042
Cell: 514-264-3576
Geneviève is Counsel with Westaway Law Group, providing litigation, negotiation, and strategic advisory services. Her growing practice includes Aboriginal/Indigenous Law, the firm's primary specialty, as well as Employment, Human Rights, and Equality Law.
Geneviève graduated from the University of Ottawa's Faculty of Law, where she completed a specialization in Dispute Resolution and received the Beament Green Prize in Advocacy.
Geneviève brings a wealth of knowledge, passion, and experience in advocating for equality rights to Westaway Law Group. Prior to law school, Geneviève completed an Honours undergraduate degree at McGill University in gender studies. During law school, Geneviève coordinated a public legal education program for high school students on their Charter rights. She served as the Ottawa branch Chair of the Women's Legal Education and Action Fund (LEAF), a national non-profit group working to advance the substantive equality rights of women and girls in Canada. Geneviève was also the Student Editor for the Canadian Journal of Women and the Law, where she helped expedite a special issue on the Missing and Murdered Indigenous Women and Girls Inquiry. She continues to be active with numerous community and legal organizations dedicated to promoting social justice.
Geneviève joined Westaway Law Group in 2017. She is bilingual (English and French).
Recent Representative Experience
Litigation
Defending section 35 rights-holders charged with provincial harvesting laws before the Court of Québec, Superior Court of Québec, and Ontario Court of Justice.
Developing legal test cases to challenge discriminatory government policies and programs for Indigenous organizations and equality-seeking groups.
Assisting First Nations in the enforcement of Treaty promises at the Federal Court, Federal Court of Appeal, and Saskatchewan Court of Queen's Bench.
Acting as Ottawa Agent at the Supreme Court of Canada and supporting the firm's appellate and agency practice.
Negotiation and ADR
Assisting First Nations in self-government negotiations with Canada.
Assisting First Nations in negotiating settlement for legal claims and Specific Claims.
Negotiating settlements for employees and individuals on unjust dismissal, discrimination, and sexual harassment matters.
Advisory Services
Legal drafting and advisory services related to First Nation governance and exercise of jurisdiction, meaningful consultation, and reviews of legislation and policy.
Drafting and reviewing permits, joint venture agreements, and other corporate agreements and documents for Indigenous businesses and industry partners.
Professional and Community Activities
Member of the Law Society of Ontario
Authorized to practice in Nunavut (RAC)
Member of LEAF Ottawa
Member of Advisory Board, Kappa Kappa Gamma – Delta Delta Chapter (McGill University)
Recent Presentations and Insights
"Leveraging flexible work practices to support better work-life balance", Women in Law Summit, Canadian Lawyer, February 12 2020, Presenter
"Human Rights Litigation and Indigenous Litigants: Background and developments in causes of actions arising beyond the human rights/section 15 Charter paradigm for Indigenous complainants", Annual Update on Human Rights Program, Ontario Bar Association, May 29 2019, Author and Presenter
"The Aboriginal Rights Framework in s. 35: The Rights Protected and the Tests for Establishing Them", Certificate in Fundamentals of Indigenous Peoples and Canadian Law 2019, Osgoode Professional Development, April 3 2019, Co-Presenter with Patricia Lawrence
"Putting your Politics into (Private) Practice: How a commitment to allyship and social justice can shape your future legal practice", University of Ottawa Faculty of Law Diversity Night, UOAWL, March 14 2018, Presenter